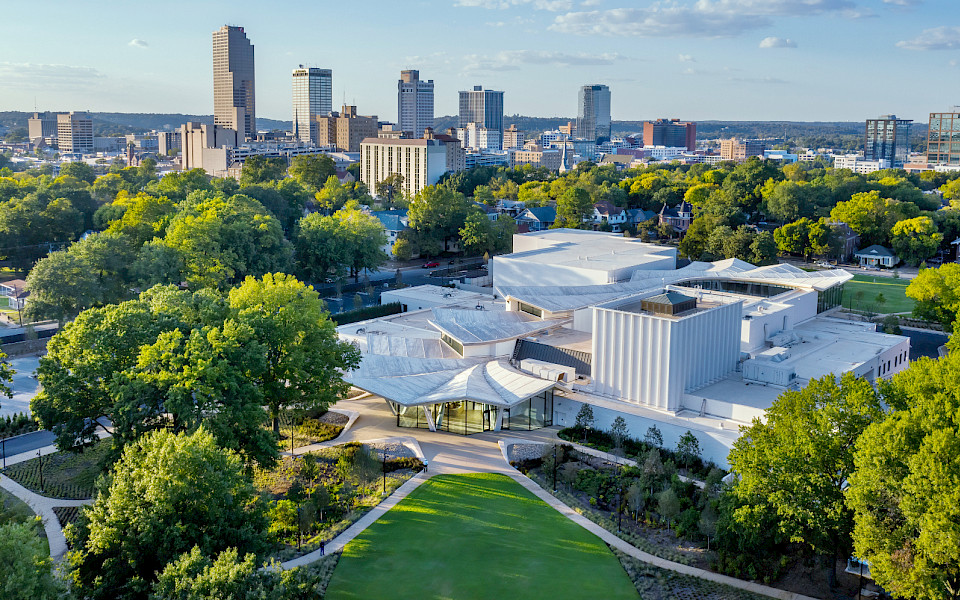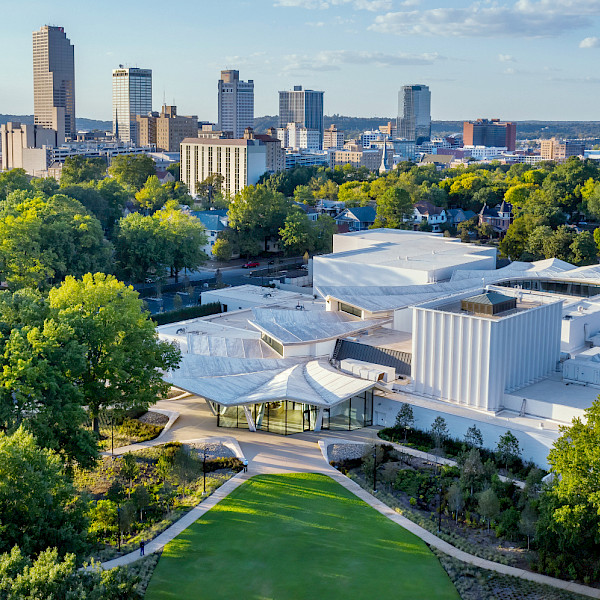 Back to News & Press
Arkansas Museum of Fine Arts Invites the Community to the Museum for Grand Opening Celebration
The Arkansas Museum of Fine Arts (AMFA) announces a week-long celebration welcoming the community to the newly reimagined museum. The festivities begin with a ribbon-cutting ceremony on Saturday, April 22, 2023, at 10:00 a.m.
AMFA opens its doors and welcomes the public to a Grand Opening Celebration on April 22, an event that recognizes the Museum's mission to inspire and build community. Anyone wishing to attend may reserve free timed tickets to see the museum and inaugural exhibitions, featuring a fresh look at the permanent collection, Drawn to Paper, and Together—an AMFA-curated exhibition that celebrates community, family, friends, and our connection to the natural world.
Intentional Risks, an exhibition of Chakaia Booker's prints and sculpture, and Tears of Chiwen, an animated video by Sun Xun, will also be on view, as well as site-specific commissions by Natasha Bowdoin and Anne Lindberg.
On April 22, guests will be able to explore all AMFA has to offer, including the Performing Arts Theater and Windgate Art School. The Cultural Living Room, AMFA's signature community space, and the Museum Store will also be open.
Performances, music, food vendors, and other exciting events will extend out into MacArthur Park from 12:00 – 8:00 p.m.
Free timed tickets for AMFA's Grand Opening Celebration for the community are available beginning Wednesday, March 22, at 10:00 a.m. on the AMFA website.
Additional celebratory events include the following:
On Sunday, April 23, AMFA will host a Design and Construction Appreciation Day, honoring those who contributed to the construction of the new building, with invitations sent in advance.
On Monday, April 24, AMFA will host a School Day at the Museum with the participation of schools from the Little Rock, North Little Rock, Pulaski County Special School Districts, and others. Students will engage in puppet-making, view a scene of The Very Hungry Caterpillar Show, and take an art walk through the galleries. Reservations for school tours open in May.
On Saturday, April 29, and Sunday, April 30, AMFA will host a Member Weekend, including family-focused programming on Saturday. Anyone who becomes a member before the grand opening date will be eligible to reserve tickets for this special event; spaces are limited.
On the evening of Saturday, April 29, AMFA will host A Toast Together in honor of annual supporters and Circle Society members. Tickets for those supporters and members are available online. Anyone who joins at a Circle Society level before the grand opening date will be eligible to reserve tickets for this special event; spaces are limited.
On Tuesday, May 2, AMFA will begin regular museum hours: Tuesday through Saturday from 10:00 a.m. – 8:00 p.m., and Sunday from 12:00 p.m. – 5:00 p.m. Free timed tickets for regular museum admission may be reserved beginning March 22, at 10:00 a.m. AMFA encourages guests to reserve tickets for the inaugural season.
For those who would like to experience the inaugural celebrations at the museum, now is the perfect time to become a member.