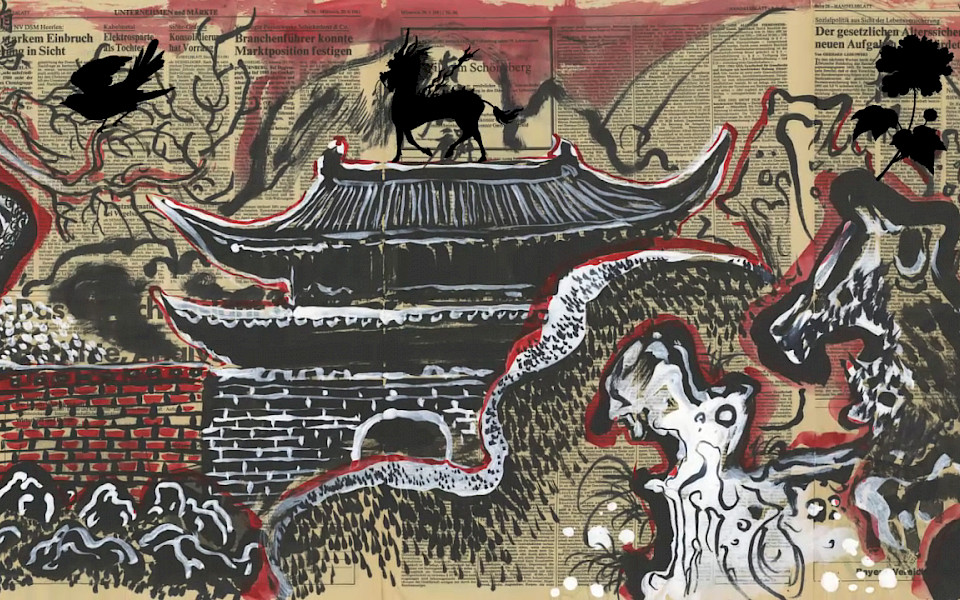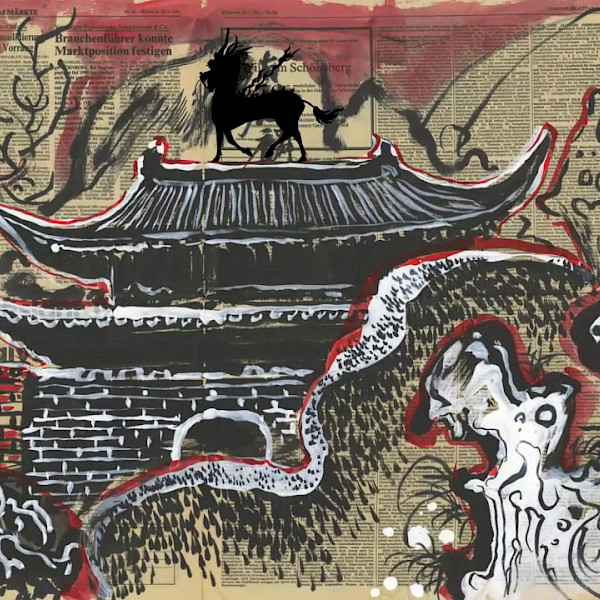 Back to Exhibitions
Sun Xun: Tears of Chiwen
April 22, 2023 - August 13, 2023
AMFA's New Media Gallery will act as a metaphorical portal, transporting visitors to an artist-designed, immersive environment. This flexible gallery space has the potential to display audio-visual works designed for projectors, television monitors, speakers, and even interactive digital platforms, allowing AMFA's programming to reflect the myriad ways artists work in the 21st century. AMFA's dedicated New Media Gallery is designed to present artworks created with emerging technologies such as interactive digital art and computer animation, as well as video. These works are shown on a continuous loop and guests are invited to visit the gallery anytime and stay as long as they wish.
Inspired by the AMFA Foundation Collection's deep holdings of drawing, the Museum's inaugural new media exhibition will consist of a projected video artwork created in part by hand-drawn, stop-motion animation: Tears of Chiwen, by Beijing-based artist Sun Xun. Sun incorporates a wide array of materials in his expressionistic animated films, combining painting, woodcuts, and charcoal and traditional Chinese ink drawings. Rooted in Asian art traditions, Sun's work is also influenced by his admiration for Albrecht Dürer's woodcuts and love of modernist cinema.
---
With its fast pace, expressive visuals, and engrossing soundtrack, Tears of Chiwen will have a broad appeal for AMFA visitors. The video cycles through many distinctive styles of animation over its 9-minute running time, featuring roughly 7,500 individual frames.
The chiwen named in the title is a mythical animal often seen as a roof ridge ornament in East Asia, intended to protect buildings against fire and flood. One of the nine sons of the dragon in Chinese mythology, the chiwen in Xun's film cries in response to modernity and loss of cultural identity.
Referencing the complex relationships between China, Japan, and Korea, Tears of Chiwen comments on how western culture has been accommodated, sometimes resisted, and eventually absorbed in different ways throughout East Asia.
By exhibiting the work of a Chinese artist, AMFA reinforces its dedication to presenting and collecting work by international artists. Born in 1980 in Fuxin, an industrial mining city in Northeast China, Sun studied printmaking at the China Academy of Fine Arts, Hangzhou (2001–2005). He grew up in the period immediately following the Cultural Revolution, Mao Zedong's violent crackdown on capitalism and traditional Chinese culture.
Its legacy has a profound impact on his work, evident in his often-revisited themes of global history, culture, memory, and politics, and his distrust of propaganda. "My father would drink Chinese saké and tell me stories about the Cultural Revolution," Sun recalled. "What he told me was quite different from the history books at school which only had one page on the Cultural Revolution."
About Sun Xun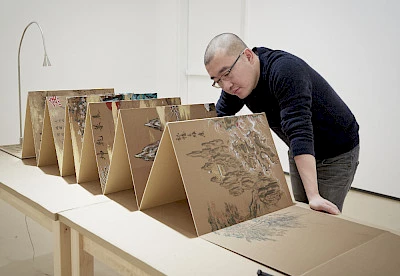 Considered one of China's most talented rising young artists, Sun Xun's artistic practice combines meticulous craftsmanship with stylistic experimentation not limited to any one medium. Blurring the lines between drawing, painting, animation and installation, his work incorporates a wide array of materials. Painting, woodcuts, traditional Chinese ink and charcoal drawings are often combined to create the foundation of expressionistic, stop-motion animated films. These films are then presented in immersive settings, creating a theatre of memory for the visitor, filled with realistic and fantastical iconography.
Sun Xun was born in Fuxin, an industrial mining town in northeast China, and grew up in the period immediately following the Chinese Cultural Revolution. The lingering aftereffects of this movement continue to have a profound impact on his work, which often explores the themes of global history, culture, memory and politics. He is especially interested in the way historical events are perceived and remembered by ordinary citizens versus how they are officially presented by public agencies and the media. Sun Xun's work explores concepts of past versus present, personal versus political in symbolic and surrealist ways, often choosing to use animals and insects as the main characters of the story instead of people.
Sun Xun studied printmaking at the China Academy of Fine Arts, and founded Pi animation studio in 2006. In 2010 he was awarded the Best Young Artists award by the CCAA, the Young Art Award by Taiwan Contemporary Art Link and the Arts Fellowship by Citivella Ranieri Foundation (Italy).
Sun Xun has held multiple solo exhibitions around the world, most notably at the Hammer Museum, Los Angeles; The Hayward Gallery, London; The Drawing Center, New York; the Kunsthaus Baselland, Basel; the A4 Contemporary Arts Centre, Chengdu; the Minsheng Art Museum, Shanghai; and the Louis Vuitton Taipei Maison, Taipei. He has most recently exhibited his work at the Metropolitan Museum of Art, New York; the Shanghai Biennale, Shanghai; and The Vancouver Art Gallery, Vancouver. His films have been screened at numerous festivals worldwide, including, the 25th Torino Film Festival, Torino; the 8th Seoul International Film Festival, Seoul; the 53rd International Short Film Festival, Oberhausen; and the MECAL International Short Film Festival, Barcelona.
Sun Xun lives and works in Beijing, China.
Sponsor
Sun Xun: Tears of Chiwen is presented by The Brown Foundation, Inc. of Houston.