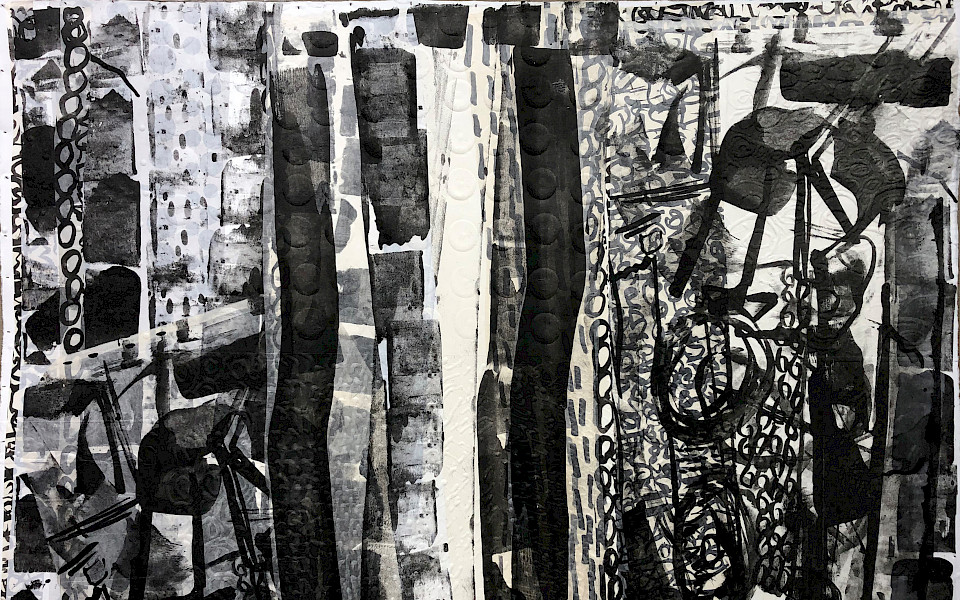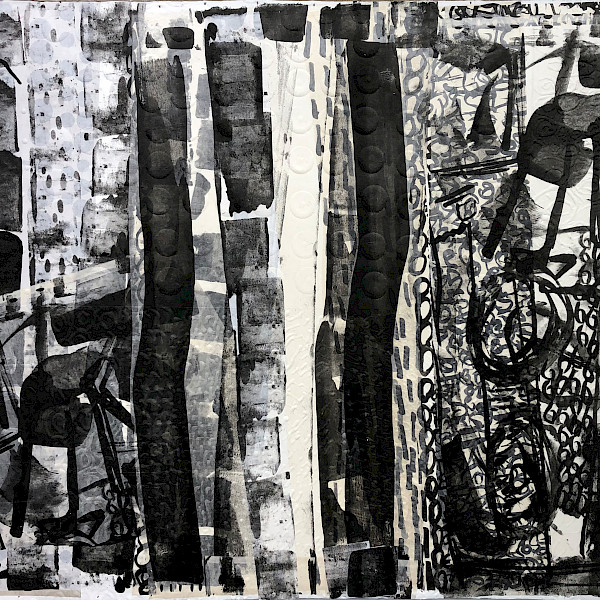 Back to Exhibitions
Chakaia Booker: Intentional Risks
April 22, 2023 - December 3, 2023
Inaugurating the Robyn and John Horn Gallery of the Windgate Art School, Intentional Risks presents twenty prints and one large-scale sculpture, The Fatality of Hope (2007), by contemporary American artist Chakaia Booker, who is best known for her monumental, abstract sculptures made from recycled tires and stainless steel. Equally dynamic, yet perhaps lesser known, are her prints, made in collaboration with master printers in the workshop of Robert Blackburn.
An influential teacher and pioneering artist, Robert Blackburn (1920-2003) initiated The Printmaking Workshop in Chelsea in 1947 by acquiring his own lithography press. In addition, Blackburn traveled around the world giving demonstrations, including a visit to the AMFA Art School in February 1985. Several historic prints by Elizabeth Catlett, Charles White, and Robert Blackburn made at The Printmaking Workshop provide additional context for Booker's prints in the exhibition.
---
Photos by Jason Masters
Since 2009, Booker has created more than 100 unique prints at the Robert Blackburn Printmaking Workshop in collaboration with master printmakers Phil Sanders and Justin Sanz. Inspired by the materiality of her sculptures, Booker creates her prints by energetically cutting and layering paper into abstract shapes.
She uses thin, delicate papers that become transparent during the printing process, which allows each layer to bleed into the next. She then tears and cuts these papers, combining and rearranging them to make the final composition. Booker's artistic practice is a fusion of texture, movement, and spontaneity, much like she approaches each day in the studio.
Prior to beginning her practice, she puts on elaborate coats, dresses, and headdresses. "I sculpt myself every day," she remarked.
About Chakaia Booker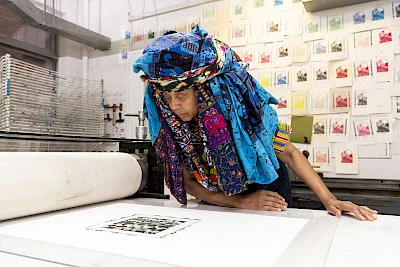 Chakaia Booker is a New York based international sculptor who has extensive experience in creating work for sculpture parks, as well as, work for recreational parks, gardens, indoor, outdoor, public and private areas in urban and rural settings. Her sculpture encompasses environmental and recycling issues. Architects, engineers, landscape architects, lighting designers, and most important, fabricators, have been a part of a team collaborating in all of the work.
Repugnant Rapunzel (Let Down Your Hair) shown in the Jacqueline Kennedy Garden at the White House demonstrates some of the issues involved. Most of the art is expressed in abstract forms. It's So Hard To Be Green created from rubber tires and wood was included in the Whitney Biennial, Whitney Museum of American Art in New York. She has shown in major sculpture parks throughout the country, A Moment In Time is included in the Storm King Art Center permanent collection in rural New York and Deja Vu is a work shown in downtown Chicago IL.
Her work is in the permanent collections of major art museums, for example Raw Attraction at the Metropolitan Museum of Art, New York City, and in other public and private collections.
Audio Tours
Learn more about the art on view in this exhibition with the audio tours in AMFA's Mobile Guide.
Sponsor
Chakaia Booker: Intentional Risks is supported by the John and Robyn Horn Foundation.