April 22, 2023 - Spring 2025
Boldy colored, larger-than-life flowers and leaves sprout across the walls of the Arkansas Museum of Fine Arts in Natasha Bowdoin's Spring Song.
With its graphic linework and high-contrast palette, Natasha Bowdoin's gardenscape dazzles the eye from afar, while its complex patterning captivates from up close. The artist works spontaneously and organically, creating new blooms in her studio and transforming those from past installations, assembling them on site and she reacts to each unique space.
Bowdoin is best known for her gouache and ink drawings on paper and her large-scale, yet intricate relief sculptures featuring floral patterns. Her lush installations of flora respond directly to their site and and appear to shift and change as visitors move through them.
Inside the AMFA gallery, layers of Bowdoin's collaged board sculptures extend from the walls in a manner reminiscent of theatrical sets, while the artist's hand-painted floral silhouettes further embellish the Art Perch, a 32-foot-long window viewable from 9th Street.
Photos by Jason Masters
About Natasha Bowdoin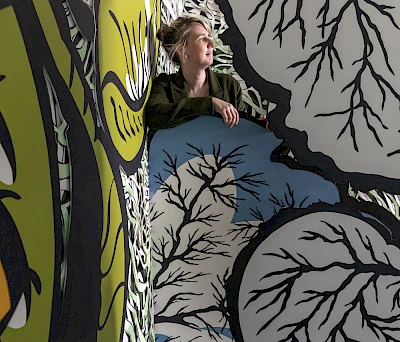 Natasha Bowdoin (b. 1981, West Kennebunk, ME) is a visual artist working in the space between painting and installation, interested in stretching the physical boundaries of painting and exploring notions of painting as site. Her collage inspired, large-scale installations investigate the potential intersections of the visual and the literary while reimagining our relationship to the natural world. Her work has been presented widely in solo exhibitions including most recently with In the Night Garden, Amon Carter Museum of American Art, Fort Worth, TX; Sideways to the Sun, Moody Center for the Arts, Houston, TX; Maneater, Massachusetts Museum of Contemporary Art (Mass MoCA), North Adams, MA; and Lunar Spring, Visual Arts Center of Richmond, VA.
Her work has also been included in numerous group exhibitions including Paper Routes: Women to Watch, National Museum of Women in the Arts, Washington, D.C.; Paper Art, CODA Museum, Apeldoorn, Netherlands; paperless, Southeastern Center for Contemporary Art, Winston-Salem, NC; and A Torrent of Words: Contemporary Art and Language, John Michael Kohler Arts Center, Sheboygan, WI. Bowdoin received her BA from Brandeis University, Waltham, MA, in Classics and Studio Art and her MFA in Painting from Tyler School of Art, Philadelphia, PA.
She has been awarded numerous artist residencies and fellowships, including the Core Artist-in-Residence Program, Museum of Fine Arts Houston (2008-2010); the Roswell Artist-in-Residence Program (2013); the Bemis Center for Contemporary Arts Artist-in-Residence Program, Omaha (2012); and a Joan Mitchell Foundation Grant (2007).
She is an Associate Professor in Painting and Drawing at Rice University in Houston, TX where she lives and works.
Audio Tours
Learn more about this installation through the audio tours in AMFA's Mobile Guide.
Curator Conversations: What Is Installation Art?
September 19, 2023
Join AMFA Curator Theresa Bembnister for an exclusive tour of the galleries and get an in-depth look at Spring Song.
Sponsor
Natasha Bowdoin: Spring Song is supported by Bank of America.