April 22, 2023 - Spring 2025
Cheerful, brilliantly colored flowers bloom on the north façade of the AMFA building, welcoming visitors back to the museum. Constructed of light-weight aluminum, these floral sculptures echo those made of cut paper, collaged board, and paint installed in the gallery.
This site-specific commission by Houston-based artist Natasha Bowdoin highlights the Museum's new architecture, extending beyond the traditional gallery walls and marking the artist's first combination indoor/outdoor installation.
Bowdoin is best known for her gouache and ink drawings on paper and her large-scale, yet intricate relief sculptures featuring floral patterns. Her lush installations of flora respond directly to their site and and appear to shift and change as visitors move through them. The artist works intuitively and organically, creating individual sculptural elements in her studio and assembling them on site as she responds to the specifics of the space.
Inside the AMFA gallery, layers of Bowdoin's collaged board sculptures extend from the walls in a manner reminiscent of theatrical sets, while the artist's hand-painted floral silhouettes further embellish the Art Perch, a 32-foot-long window viewable from 9th Street.
Natasha Bowdoin (West Kennebunk, Maine, 1981 - ), "In the Night Garden" (detail), Installation commissioned by the Amon Carter Museum of American Art, Fort Worth, Texas, 2021. Image courtesy of the artist and the Amon Carter Museum of American Art. Photo by: Paul Leicht.

Natasha Bowdoin (West Kennebunk, Maine, 1981 - ), "Flower Power" (detail), Installation commissioned by Rice Public Art for the Anderson Biological Laboratory, Rice University, Houston, Texas, 2021. Image courtesy of the artist and the Moody Center for the Arts. Photo by: Nash Baker.
---
The bright colors, sharp contrast, larger-than-life scale, and graphic lines of Bowdoin's flowers mean they can be seen from afar, yet their details and dimensionality are eye-catching from up close. Outdoor passers-by will be able to see Bowdoin's installation through the large window on the Museum's northern façade, and from just inches away inside the contemporary art galleries.
Bowdoin is the perfect choice as the inaugural artist for the brand-new Art Perch—her work captivates at multiple scales viewed from a variety of distances.
Bowdoin finds inspiration in a broad swath of subject matters: Golden Age children's book illustrations, 19th-century botanical drawings, floral textile patterns, comic books, cartoons, theatrical stage sets, and early science fiction. Her affinity for nature began at a young age, as she wandered the woods and waters of her native Maine, where she worked as a lobsterwoman for her family before studying art. These inspirations can be further explored by visitors through a curated library with books related to the artist's inspirations, located on the window bench in the contemporary art gallery.
About Natasha Bowdoin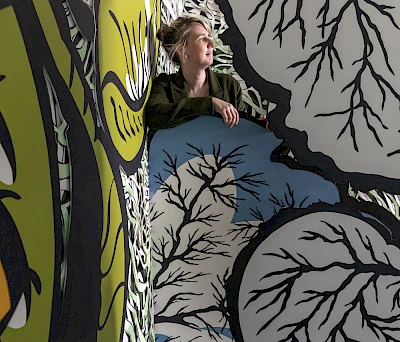 Natasha Bowdoin (b. 1981, West Kennebunk, ME) is a visual artist working in the space between painting and installation, interested in stretching the physical boundaries of painting and exploring notions of painting as site. Her collage inspired, large-scale installations investigate the potential intersections of the visual and the literary while reimagining our relationship to the natural world. Her work has been presented widely in solo exhibitions including most recently with In the Night Garden, Amon Carter Museum of American Art, Fort Worth, TX; Sideways to the Sun, Moody Center for the Arts, Houston, TX; Maneater, Massachusetts Museum of Contemporary Art (Mass MoCA), North Adams, MA; and Lunar Spring, Visual Arts Center of Richmond, VA.
Her work has also been included in numerous group exhibitions including Paper Routes: Women to Watch, National Museum of Women in the Arts, Washington, D.C.; Paper Art, CODA Museum, Apeldoorn, Netherlands; paperless, Southeastern Center for Contemporary Art, Winston-Salem, NC; and A Torrent of Words: Contemporary Art and Language, John Michael Kohler Arts Center, Sheboygan, WI. Bowdoin received her BA from Brandeis University, Waltham, MA, in Classics and Studio Art and her MFA in Painting from Tyler School of Art, Philadelphia, PA.
She has been awarded numerous artist residencies and fellowships, including the Core Artist-in-Residence Program, Museum of Fine Arts Houston (2008-2010); the Roswell Artist-in-Residence Program (2013); the Bemis Center for Contemporary Arts Artist-in-Residence Program, Omaha (2012); and a Joan Mitchell Foundation Grant (2007).
She is an Associate Professor in Painting and Drawing at Rice University in Houston, TX where she lives and works.
Sponsor
Natasha Bowdoin: Spring Song is funded in part by Bank of America.