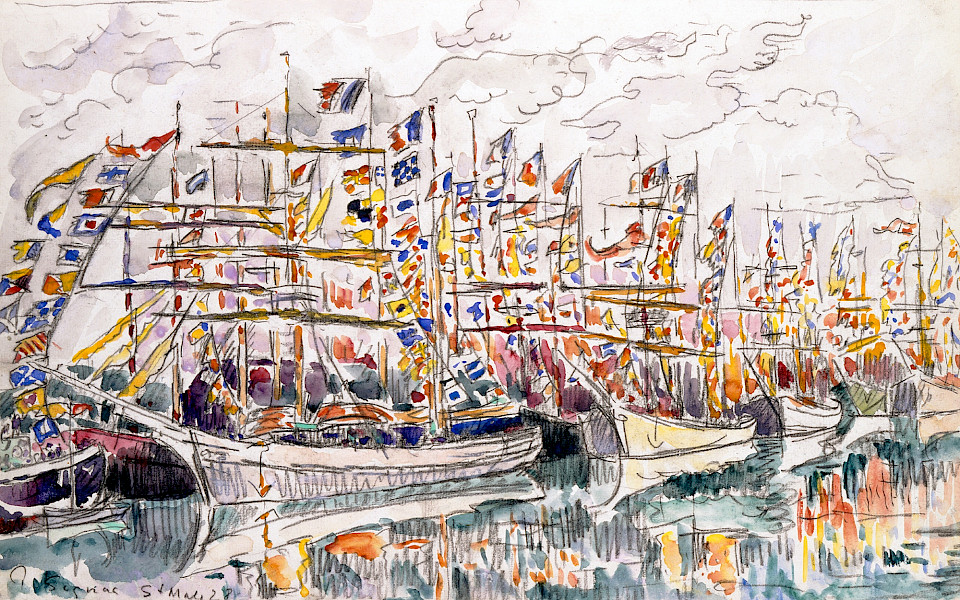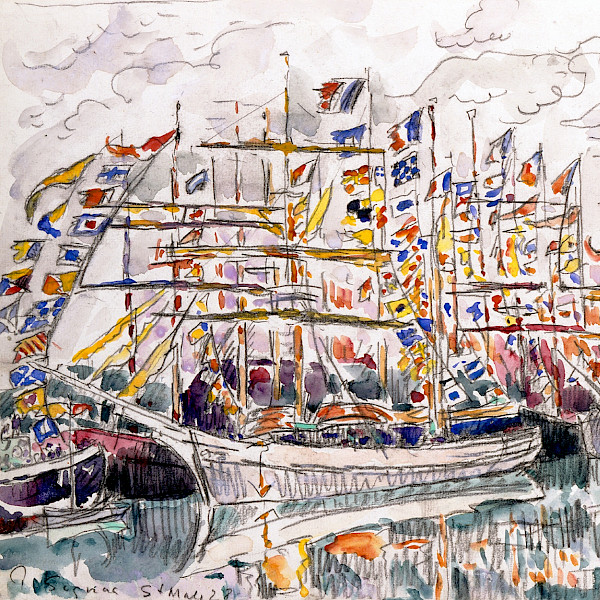 Back to Exhibitions
Drawn to Paper
April 22, 2023 - November 26, 2023
Drawn to Paper illustrates the richness and depth of the Arkansas Museum of Fine Arts Foundation Collection's holdings of twentieth-century American and European drawings. Notable strengths include the largest concentration of watercolors by Paul Signac outside his native France, as well as the second largest collection of works on paper by John Marin. Signac prolifically documented the diverse landscape of France, especially its ports, while Marin drew inspiration from the coast of Maine and the vibrant energy of the buildings and streets of New York City. Significant examples by these two artists feature prominently in the exhibition.
Similarly drawing inspiration from the urban environment, John Wilson's charcoal study for his lithograph Streetcar Scene, Edward Hopper's intimately scaled crayon drawing of a couple at the window, likely a study for a painting, and a pencil study of a Mexican newspaper vendor by Elizabeth Catlett—who taught a workshop at the Museum's Art School in 1984—all illustrate the artistic process with a variety of media. Also included is Arthur Dove's Sketchbook E, which contains 28 highly abstracted watercolors, and is on display in its entirety for the first time since its acquisition in 1992.
---
Other artists, meanwhile, find inspiration by closely observing nature. A standout of the exhibition is a charcoal drawing of a banana flower by Georgia O'Keeffe, one of only five such works the artist made while visiting the Bahamas in 1933-34. Charles Demuth, her contemporary and fellow artist of the "Stieglitz Circle," portrays an abundance of freshly cut flowers in his aptly titled watercolor A Bouquet.
Lastly, seeking to elevate awareness of Arkansas artists, AMFA celebrates one of the state's most remarkable artists, Inez H. Whitfield, who documented the diverse wildflowers of Arkansas and the months in which they bloom through her nearly 400 highly detailed watercolors, all of which are in the AMFA Foundation Collection.
Through the nearly 60 works of art in the exhibition, Drawn to Paper recontextualizes selections from the AMFA Foundation Collection and illustrates diverse artistic processes and media. Following this inaugural exhibition, the gallery will continue to present focused, rotating, theme-based exhibitions.
Sponsor
Drawn to Paper is presented by the Stan Hastings Family.