April 22, 2023 - Spring 2026
A luminous cloud of color floats above Museum visitors, creating an unexpected art experience as they walk through the galleries. This exhibition is a newly commissioned work by Anne Lindberg, an artist based in upstate New York.
Lindberg makes site-specific installations—sculptures that respond directly to the architecture of the surrounding space. Her work, which is created for AMFA, will draw visitors' attention to the thoughtful details of the new Studio Gang-designed building. Exhibiting art in an unusual location—a corridor—will activate the space for visitors. With the help of assistants, Lindberg pulls colorful cotton thread taut between walls and staples it into place, repeating the process over and over.
"The piece begins as a whisper and gains mass as time goes on," she explains. "It's performative." Although her installations are volumetric, Lindberg considers them to be drawings—they create lines in space. One wall will feature a large vertical drawing on mat board with dozens of brightly colored, thin, horizontal lines created by the artist with the help of a parallel bar. The drawing, grene, has been acquired for the AMFA Foundation Collection.
AMFA selected Lindberg as an inaugural installation artist because of her unique attention to architecture and relationship to drawing, a strength of the AMFA Foundation Collection.
The artist designed this installation specifically for the narrow corridor gallery. Lindberg notes, "passage is a narrow-compressed form that floats overhead and is located within a slender pinch point between large exhibition spaces in the Museum. The overall form shifts direction mid-way along its horizontal length to create a gap or pause, a peek through its vertical depth." The work is also unusual in that visitors will walk below it, creating an immersive experience.
About Anne Lindberg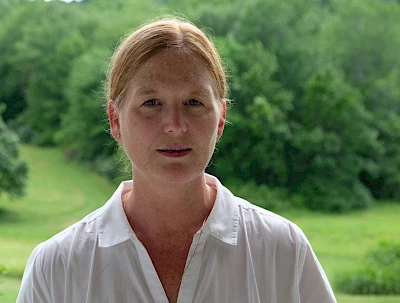 Anne Lindberg's recent exhibitions include Everson Museum of Art, Figge Art Museum, Museum of Arts and Design, Thomas Cole Historic Site, John Michael Kohler Art Center, Manitoga The Russel Wright Design Center, Josee Bienvenu Gallery, SEPTEMBER Gallery, University of Minnesota Regis Center for the Arts, River Valley Arts Collective at the Thornwillow Press, Nancy Littlejohn Fine Art, The Landing, Haw Contemporary, Pamela Salisbury Gallery and Carrie Secrist Gallery among others.
Her work has also been in solo and group exhibitions at such places as The Drawing Center, New York; Tegnerforbundet, Norway; SESC Bom Retiro, Sao Paulo; Mattress Factory; Museum of Fine Arts, Boston; Museum of Arts and Design, New York; Contemporary Art Museum of Raleigh; U.S. Embassy Yangon Myanmar; Atlanta Contemporary Art Center; Bemis Center for Contemporary Art; Akron Art Museum; Cranbrook Art Museum; Atlanta Contemporary Art Center; Contemporary Art Center, Cincinnati; Laumeier Sculpture Park; The Warehouse Dallas; Galerie Hubert Winter, Vienna; September Gallery; Josee Bienvenu Gallery and the Omi International Art Center, among others.
Her work is held in the collections of the Nevada Museum of Art, Everson Museum of Art, Detroit Institute of Art, Kemper Museum of Contemporary Art, Nerman Museum of Contemporary Art, Daum Museum of Contemporary Art, The Rachofsky Collection, Collection of Christy and Bill Gautreaux, Spencer Museum of Art, Federal Reserve Bank Kansas City, Niwako Kimono Company, GSA Richard Bolling Federal Building, among many others. She recently completed a five-story glass wall drawing commission at NYU Langone Health in New York, and 14 of her drawings are now in the collection of the U.S. Consulate General in Dhahran, Saudi Arabia.
Lindberg is recipient of awards including a 2011 Painters & Sculptors Joan Mitchell Foundation Grant, a Charlotte Street Foundation Fellowship, two ArtsKC Fund Inspiration Grants, a Lighton International Artists Exchange grant, the Art Omi International Artists Residency, an American Institute of Architects Allied Arts and Crafts award, and a Mid-America National Endowment for the Arts Fellowship. She holds a BFA from Miami University and an MFA from Cranbrook Academy of Art. Her studio is in Ancramdale, New York.
Audio Tours
Learn more about this installation through the audio tours in AMFA's Mobile Guide.
Curator Conversations: What Is Installation Art?
September 19, 2023
Join AMFA Curator Theresa Bembnister for an exclusive tour of the galleries and get an in-depth look at passage.
Sponsor
Anne Lindberg: passage is presented by Terri and Chuck Erwin with additional support from the Lenore G. Tawney Foundation.