Savor your surroundings and commemorate your visit to the Museum with a stop at AMFA's premier dining and shopping destinations.
Park Grill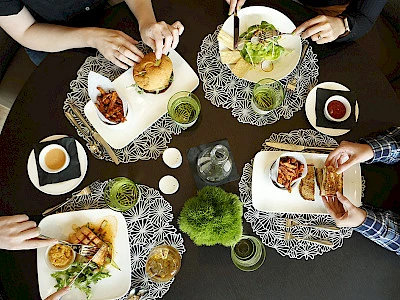 Led by Executive Chef Patrick Herron, Park Grill is a full-service restaurant serving Contemporary American fare with artistic flavors. Located adjacent to the Museum's Park Entrance, the restaurant offers indoor, outdoor, and private dining options with beautiful views of the Museum grounds and MacArthur Park.
Hours:
Lunch / Tues - Fri, 11:00 a.m. to 2:00 p.m.
Dinner / Wed - Fri, 4:00 to 9:00 p.m.
Brunch / Sat & Sun, 11:00 a.m. to 2:30 p.m.
Cultural Living Room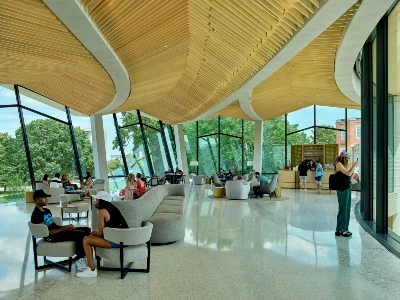 The Cultural Living Room is AMFA's signature community space—a place to relax and socialize with comfortable lounge furniture, art books, and a coffee and cocktail bar. Enjoy views of the 1937 façade and Courtyard, Crescent Lawn, and MacArthur Park neighborhood during a morning coffee break, afternoon snack, or evening happy hour.
Beverage Bar Hours:*
Tues & Sat / 10 a.m. to 8 p.m.
Wed - Fri / 10 a.m. to 5 p.m.
Sun / 12 to 5 p.m.
*The Cultural Living Room closes at 3:00 p.m. on Sat., Oct. 6, and 12:00 p.m. on Sun., Oct. 7, for private events.
Museum Store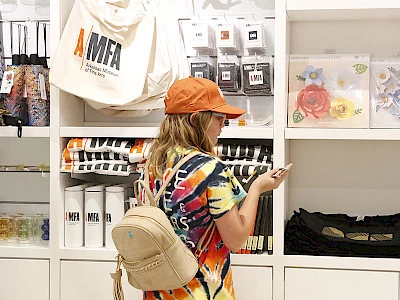 The Museum Store is a premier shopping destination. Every item has been thoughtfully selected and inspired by the art and artists on view at AMFA.
Celebrate the Museum's permanent collection through exclusive merchandise and discover hand-crafted items by AMFA-selected artists. Shop for art supplies and explore the broad selection of art books for renewed inspiration. The children's section is sure to delight with a playful variety of art-inspired toys.
Please note the Museum Store closes at 2:30 p.m. on Tuesday, October 3.
Members receive a 10% discount at the Museum Store. Join today to access this benefit.