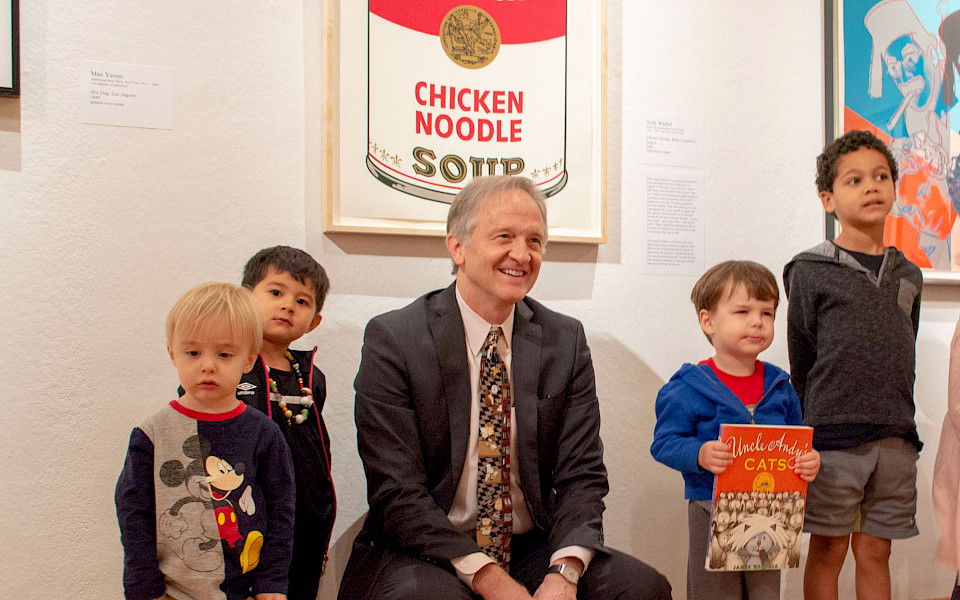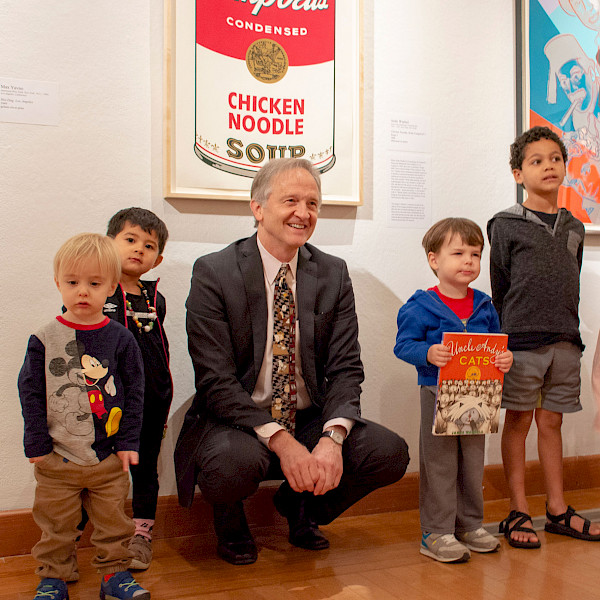 Back to News & Press
Arkansas Arts Center to expand into community with collection on view, continued programs during future renovation
Select programs and craft collection will move to CALS locations during construction on MacArthur Park facility
The Arkansas Arts Center and the Central Arkansas Library System are launching a long-term partnership to build valuable creative connections between two Central Arkansas cultural institutions.
This collaboration with CALS is the first of several community partnerships the Arkansas Arts Center will offer as its building in MacArthur Park undergoes a transformational renovation. Beginning in the fall of 2019, arts patrons will find Arts Center collection works and programming at a variety of locations around Arkansas, including 15 Central Arkansas Library System locations. More details about additional partnerships will continue to be announced throughout 2019.
"CALS has always served as a partner and host for our regional arts institutions. Our many branch locations provide a perfect venue to share with local neighborhoods the cultural richness of the Arkansas Arts Center's collection," CALS Executive Director Nate Coulter said. "We are also delighted to enable the continuation of the Arts Center's educational programs during their construction process, thanks to our many community classrooms and meeting spaces. It is our pleasure to collaborate with the Arts Center to support our arts community, and we know CALS patrons will greatly enjoy these classes as an addition to our regular library programming."
Beginning in early 2019, patrons of CALS branches will see works from the Arkansas Arts Center's extensive collection of contemporary craft objects as they browse their neighborhood libraries. Nearly 10% of the craft collection's 1,500 works will be on view at all 14 CALS branches, as well as the Butler Center for Arkansas Studies, with each installation carefully curated to the environment, history and mission of each individual library branch. These installations in communities across Central Arkansas will show off the incredible diversity of the Arts Center's collection of contemporary craft objects.
"Between one and three percent of a museum's collection is on view at any given time," said Brian J. Lang, Chief Curator and Windgate Foundation Curator of Contemporary Craft. "This partnership with CALS will enable us to keep a significant portion of our craft collection accessible and visible to the community while our building is under construction."
Lang, along with the Arts Center's team of curators, registrars and preparators, has spent the last year meeting with CALS staff and visiting each library in the system to discuss goals and develop plans for collaborations that will benefit Central Arkansas communities. Carefully selected for their relevance and community value, the works will allow library managers to draw inspiration to plan programming around the collections. These long-term partnerships are designed to continue, even after the Arkansas Arts Center's reopening, scheduled for spring 2022.
"It's been a welcome challenge for me as a curator to use our collection in engaging and innovative ways that will be of interest to CALS and its patrons," Lang said.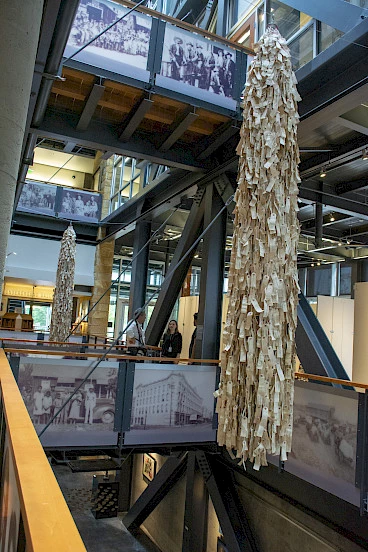 The CALS Main Library in downtown Little Rock will feature large scale sculptures in metal and wood. Across the street at the Butler Center for Arkansas Studies, two sculptures from artist Wendy Maruyama's The Tag Project, installed in July 2018, will remain on view. At the Hillary Rodham Clinton Children's Library & Learning Center, visitors will find a selection of whimsical Toys Designed by Artists, works that challenge children and adults alike to imagine beautifully-crafted toys as artistic expressions of personal experience. Judy Onofrio's Just Pretending, a found-object assemblage sculpture depicting a mermaid, will also take up residence at the Children's Library.
Some installations will reference the accomplishments of the libraries' namesake patrons. At the Adolphine Fletcher Terry Library in West Little Rock, the Arts Center will pay tribute to the noted women's rights and integration advocate with works from the Arkansas Arts Center Foundation Collection by women artists working in ceramic. At the John Gould Fletcher Library – named for the Pulitzer Prize-winning author – an installation will feature craft objects that incorporate text.
The Roosevelt Thompson Library in Chenal will include a selection of teapots from the AAC collection. The Amy Sanders Library in Sherwood, which focuses on STEM programs, will install works made using recycled materials. The Sue Cowan Williams Library – near Dunbar Garden – will feature garden-themed works.
Other installations will connect with the land or industry of the library's neighborhood. The Dee Brown Library in Southwest Little Rock will feature a woodland-themed installation of wood-fired stoneware. Surrounded by pine trees, the Millie Brooks Library in Wrightsville will feature works inspired by pine, including turned wood, coiled baskets and wall pieces. At the Max Milam Library in Perryville, works in metal will connect to the area's long agricultural history. Near the Little Rock Air Force Base in Jacksonville, the Esther DeWitt Nixon Library will feature works that explore the military experience and military history.
"The hope is that this program will be our opportunity to integrate into the fabric of our community," Lang said. "We hope to introduce people to the rich diversity of our collection, as well as inspire people who might not already know about the Arts Center to stay connected and visit these works in our new space."
Beginning in September 2019, CALS patrons will also find some of their favorite Arts Center youth and adult programs at their neighborhood libraries, with programs carefully placed to fit the communities already present at each library.
"We're always looking for meaningful ways to engage audiences with the arts," said Rana Edgar, Arkansas Arts Center Director of Education and Programs. "Partnering with CALS will allow us to reach new audiences while continuing some of the programming Arts Center patrons have come to know and love."
Art Start, a collaboration between the Arkansas Arts Center and CALS, will be moving to the Hillary Rodham Clinton Children's Library & Learning Center. The program, designed for toddlers and pre-school-aged children, includes stories about art and artists, gallery activities and art-making projects. Other youth classes and programs that will move to the Children's Library include the ever-popular Me & My Grown Up and Spring Break youth camp. After-school youth classes in a variety of media will also be held at the Terry, Maumelle, Sanders and Dee Brown libraries.
Terry, Maumelle, Dee Brown and Main libraries will also host a variety of classes and workshops in a range of two-dimensional media for adults.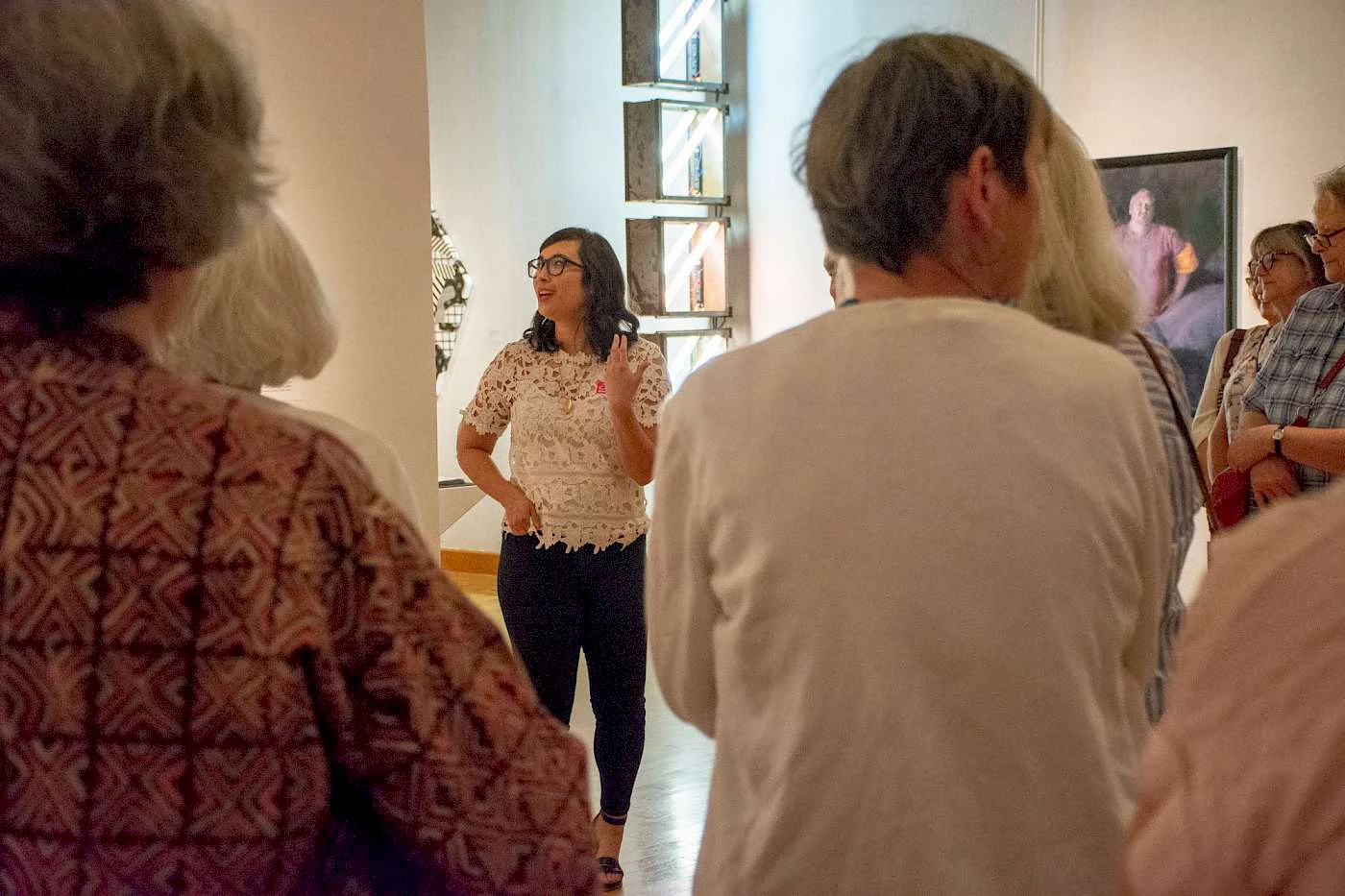 Feed Your Mind Fridays, monthly free gallery talks offered during the lunch hour, and docent tours will continue at the Main Library. Art Together, a partnership with Alzheimer's Arkansas to provide an art experience for adults with dementia-spectrum disorders and their care partners, will be offered at the Butler Center for Arkansas Studies. Young Arkansas Artists, an annual exhibition of youth artwork from across the state – a perennial favorite Arts Center exhibition – will also be on view at CALS.
"The partnership is an opportunity to foster greater engagement with CALS and AAC," said Nathan James, CALS deputy executive director of technology & digital innovation. "There may be CALS patrons who have never taken advantage of the wealth of opportunities AAC offers, and likewise there may be AAC members who haven't explored the programs, services, and collection CALS offers. We can build a community actively involved with both organizations, and more importantly, build relationships and understanding between the people who make Central Arkansas such a vibrant place to call home."
This collaboration between the Arkansas Arts Center and CALS is one of the many opportunities that will allow the Arts Center to remain vibrant and community-oriented while its building undergoes renovation.
"Partnerships within our community have always been critical to our mission," said Laine Harber, Arkansas Arts Center interim executive director. "As we look toward the future, we want to continue to build the Arts Center into a true community gathering space. During our construction process, we look forward to building community with our many partners across the state."